Hugh Jackman Reaction
It a very big embarrassment when you suppose that you are a winner but when on stage they call someone else instead of you that is a moment when your friend sees your reaction and make fun of you. Recently this happened with Hugh Jackman in The Golden Globe Award show where Jackman was beaten by James Franco. Hugh Jackman Reaction was noticed by everyone and that becomes a viral news. James Franco (The Disaster Artist) won the Globe for Best Actor in a Comedy or Musical, beating Jackman (The Greatest Showman) as well as Daniel Kaluuya (Get Out), Steve Carell (Battle of the $exes) and  Ansel Elgort (Baby Driver).
Here Readers Cave presents some tweets by people on Hugh Jackman Reaction. "Hugh Jackman Did Not React Well To Losing At The Golden Globes". You can also see his reaction in below GIF.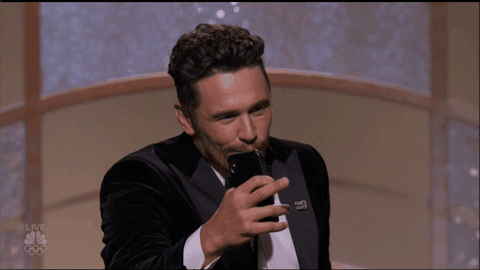 #1 When Hugh Jackman Listen To The Name Of James Franco.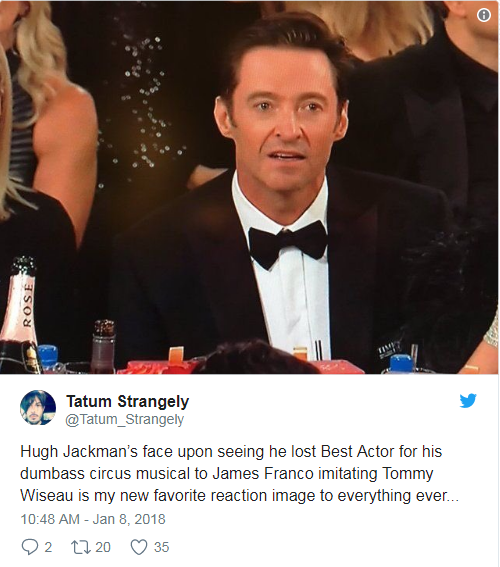 Tatun_Strangely: "Hugh Jackman's face upon seeing he lost Best Actor for his dumbass circus musical to James Franco imitating Tommy Wiseau is my new favorite reaction image to everything ever…"
#2 People Feel Refreshed By Watching This Reaction.
auberypage_: "truly feeling REFRESHED by this look from hugh jackman @ james franco"
#3 James Franco Win The Golden Globel Award.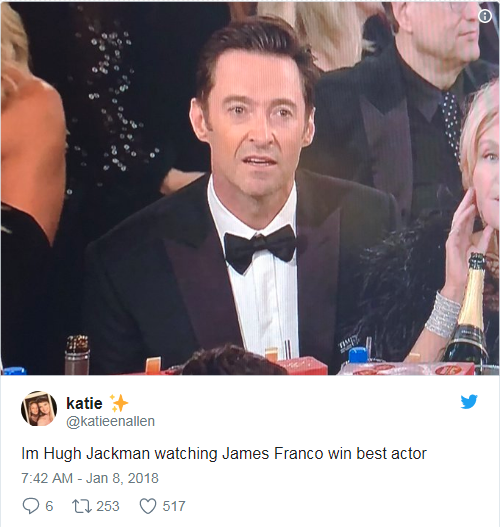 Katieenallen: "Im Hugh Jackman watching James Franco win best actor"
#4 Hugh Jackman As Joey Tribbiani 2018 #GoldenGlobes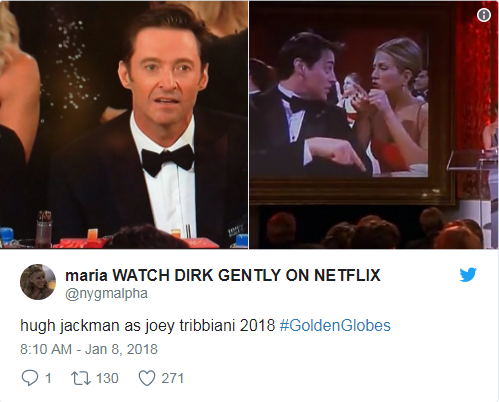 nygmalph: "hugh jackman as joey tribbiani 2018 #GoldenGlobes"
#5 But Hugh Deserves The Golden Global Award Because He Worked 7 Year On That Movie.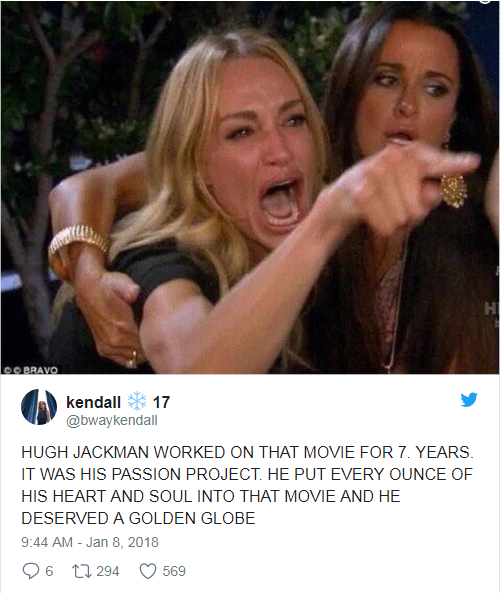 bwaykendall: "HUGH JACKMAN WORKED ON THAT MOVIE FOR 7. YEARS. IT WAS HIS PASSION PROJECT. HE PUT EVERY OUNCE OF HIS HEART AND SOUL INTO THAT MOVIE AND HE DESERVED A GOLDEN GLOBE"
#6 Hugh Jackman Deserved That Award For Greatest Showman.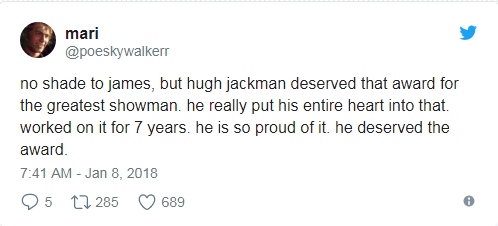 poeskywalkerr: "no shade to james, but hugh jackman deserved that award for the greatest showman. he really put his entire heart into that. worked on it for 7 years. he is so proud of it. he deserved the award."
#7 Hugh Jackman's face realizing he just lost to this guy:
Hugh Jackman's face realizing he just lost to this guy: pic.twitter.com/nWPhWQvNzs

— Kate Bennett (@KateBennett_DC) January 8, 2018
kateBennett_DC: "Hugh Jackman's face realizing he just lost to this guy:"
If you like this post then comment in comment box and share this post with your friends and don't forget to share with the fans of Hugh Jackman and James Franco.