Logan Paul Controversy
'Logan Paul Controversy'. Logan Paul is American vlogger and actor. Recently he posted a suicide video of a dead body on youtube which becomes a trending news on social media. This Non-monetized video deleted after becoming a Logan Paul controversy. According to New York Magazine in 24 hours that video reach 6.3 million views. This video was filmed in the forest of Mt.Fauji called Aokigahara, which is also known as Suicide Forest because there were so many suicides attempted in this forest. 
Here Readers Cave presents Logan Paul Controversy tweets in which People Are Calling For Logan Paul To Be Banned From YouTube After Posting A Video Of A Dead Body
Some Screenshot of video:-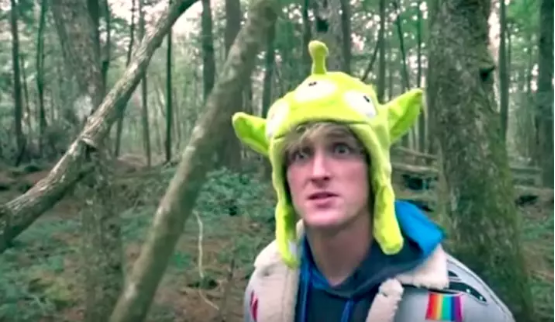 Photo Courtesy: Buzzfeed
Tweets:-
#1 Many People Tweet About This Video And They Were Shocked After Viewing This Video Which Was Uploaded By Logan Paul.
#2 Fan Of Logan Paul Were Very Disappointed After Watching This Video And You Can See In This Tweet.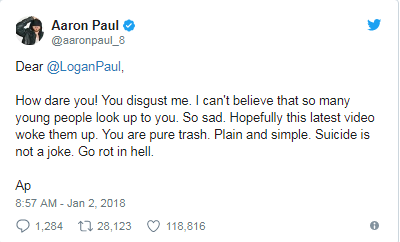 #3 Fans Of Logan Paul.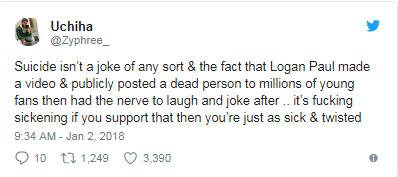 #4 Other YouTubers Were Very Disappointed And Show Their Feeling By Tweet.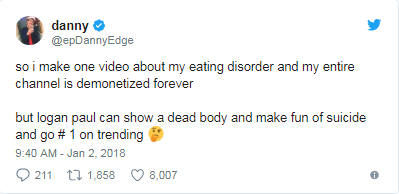 #5 People Are Not Happy After Removing That Video, They Want To Remove All Videos Of Logan Paul Frome Internet.

#6  After All, Logan Paul Second Video Come Out. Logan Paul finally issued a statement, writing "I've never faced criticism like this before because I've never made a mistake like this before."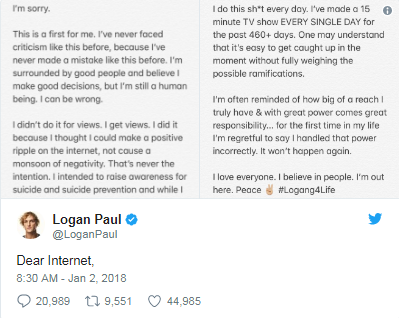 LOGAN PAUL STATEMENT:-
I'm sorry.
This is a first for me. I've never faced criticism like this before, because I've never made a mistake like this before. I'm surrounded by good people and believe I make good decisions, but I'm still a human being. I can be wrong.
I didn't do it for views. I get views. I did it because I thought I could make a positive ripple on the internet, not cause a monsoon of negativity. That's never the intention. I intended to raise awareness for suicide and suicide prevention and while I thought "if this video saves just ONE life, it'll be worth it," I was misguided by shock and awe, as portrayed in the video. I still am.
I do this sh*t every day. I've made a 15 minute TV show EVERY SINGLE DAY for the past 460+ days. One may understand that it's easy to get caught up in the moment without fully weighing the possible ramifications.
I'm often reminded of how big of a reach I truly have & with great power comes great responsibility… for the first time in my life I'm regretful to say I handled that power incorrectly. It won't happen again.
I love everyone. I believe in people. I'm out here. Peace #Logang4Life"