United Airlines New Slogans
[L]ast Sunday the police of The United State Airline dropped out a man from the plane. Actually, the plane was overbooked and passenger did not ready to get down from the plane. The passenger claimed that when his seat was booked then why should he go. If genuinely we think he is absolutely right oh his place, because of no one ready to left their seat after confirm booking. The second thing, the security misbehave with him and forcefully dropped down from the plane. For this misbehave The United Airlines new slogans comes on twitter in the form of anger.
Complete Scenario capture by Tyler Bridges, on Sunday's flight he posted a video on Twitter, Actually, he wants to show the reality of The United State airline. He said in a telephone interview on Monday that "it felt like something the world needed to see." This misbehaves and shocking scene raised questions about the common practice of overbooking and how far airlines will go to sell all of their seats. Suppose the overbooking has happened then security have to do everything in his limits. The Same thing comes in everybody's minds and particularly annoying, Mr. Bridges said that the airline was looking for extra seats for some of its employees. For future, seniors should take a strict action against the united state airline.
After This, A new slogan comes in popularity for united state airline And You can comment freely to get rid of your anger.
#1

#2

#3

#4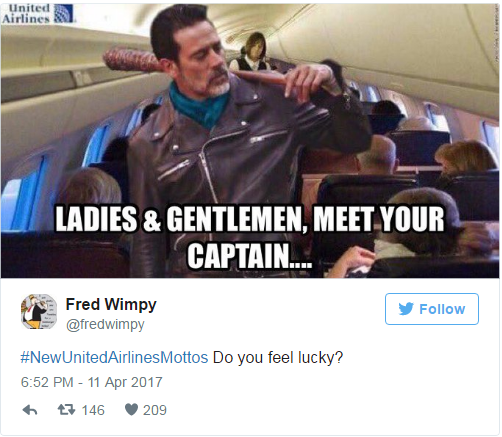 #5

#6

#7