Being Smart Android Phone
[S]alman Khan or Salman Bhai Khan, an inspiring actor of Bollywood for everyone who believes in hard work and making their name. He is not just a role player but an incredibly generous human being or shall I say Being Human? If you don't already know Being Human is a charitable trust founded by Salman Khan in 2007. Sallu miyan is always in the news and this time because of #beingsmart, Salman has announced to launch an affordable smartphone "being smart Android phone."
Salman's Android phone will have some great features we know this, but Indian Twittersphere has bombarded the hashtag #beingsmart with tons of expectations and regards for the Salman Khan's, being smart android phone.See how people take a nip on bhaiphone.
#1 Only if you know mean what is affordable when it comes to bhai.
#beingsmart.

#2 The phone will never hang over 😛 #beingsmart.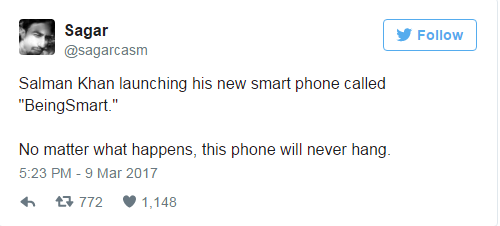 #3 You can give advice better on what you are not #beingsmart.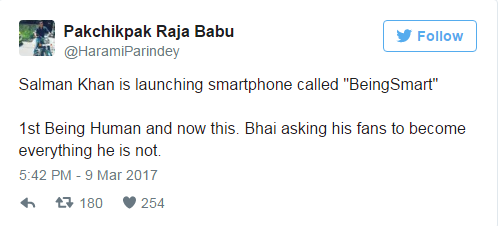 #4 Now that can really be smart of a phone #beingsmart.

#5 Keep that straight it will run over all the apps
#beingsmart.