Funny Kids Names
[I]n this modern era, children are very sharp minded and learn things very fast and also they follow them very quickly. Parents love their children very much and take care of them and full their all needs. Children are very naughty they troubles for their parents by doing different activities. Parent get tired to control their children activities. Finally, they decided to give a funny name to their child based on their conceptions.
Here Reders Cave presents 20 tweets of parents share what kids name would be if they were based on their conception.
#1 They Don't Drink Energy Drinks.

#2 Very Difficult To Control Over Children.

#3 Maturty Level.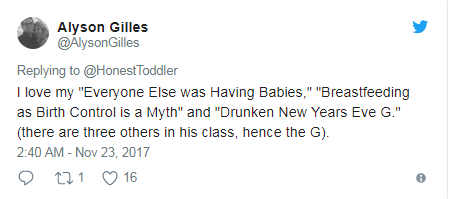 #4 Active Child.

#5 Drink Ban.
#6 Mum's Bodyclock Panic.

#7 She Feels Like A Grandmother.