Nawazuddin Siddiqui Reveals His True Religion
[T]he controversy about Sonu Nigam's tweet about the azan wasn't yet out of the discussions here comes another blast from the simple and straightforwardly speaking Bollywood actor Nawazuddin Siddiqui, who has shared a video on social media where Nawazuddin Siddiqui Reveals His True Religion. In this video, Nawazuddin has told people that he had done his DNA test and he proved to be 100 percent artist in it.
These videos are currently becoming quite viral on social media. In this video, Gangs of Wasseypur Actor is holding a placard in his hands like an inmate, in which he showed turn by turn a strong and efficient message by wearing dresses of different religion on camera. All these placards have been written that he is 16.66 per cent Hindus in their DNA, 16.66 per cent Muslims, 16.66 percent Christian, 16.66 percent Buddhist, 16.66 percent Sikh. In the end, he took another playing card and show it on the camera, which says that his soul is 100 percent artist.
Let me tell you that this video of Nawazuddin was being associated with the tweet of Sonu Nigam's Ajan, in which he said tweeting that he was not a Muslim but still he had to wake up every morning to the sound of the mosque's Ajan. How long will we have to force people to take such religious practices? After this tweet, Sonu's fame became fierce and even a Maulvi issued a fatwa for shaving the hair off his head, giving a reward of 10 lakhs, after which Sonu had his head shaven in a press conference.
#1 Sonu Nigam Ignited
#2 The Religion That People Pretend They Belong To.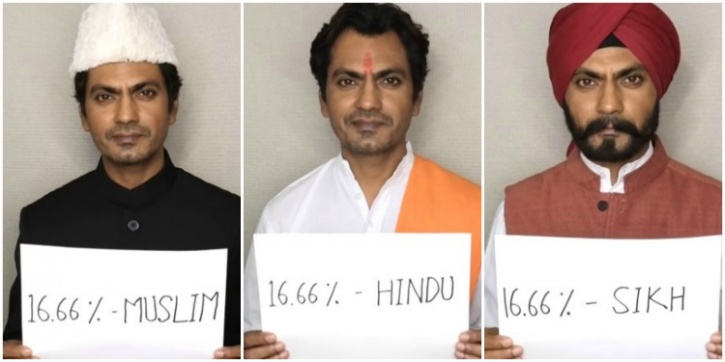 #3 Nawazuddin Siddiqui Reveals His True Religion.
Go to the next page for watching video-