Forced Religiousness
[C]hange is good they say, every time change isn't required I say. The change I am talking about is a statement (these days statements comes in the form of tweets we have seen Adnan Sami's statement too earlier in the day today) one of our most loved singer cum celebrity Sonu Nigam who has declared to take stand on his statement over "Forced Religiousness". If you are still not aware of the context of this article let me tell you that yesterday Sonu Nigam made a tweet about his annoyance at being woken up by Azaan (Prayer in Islam). The fans and the non-supporters indulged in a war of words on his tweets. The words Sonu Nigam used in his tweets like "Forced Religiousness" and "Gundagardi" enraged the people to which Sonu Nigam himself clarified that it's not limited to a community or a religion but everyone who is promoting their religion/belief forcibly on the people.
After the whole day of good and bad times of the tweet, Sonu Nigam has to come forward either to take a U-turn from his statements or stand firm to support his point. The singer chose the latter one. We are showing you the series or tweets Sonu Posted and the reaction of the people on the same.
#1 Stand For What You Have Said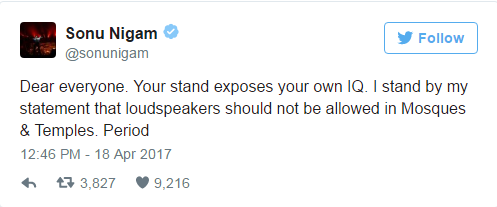 #2 Second Tweet.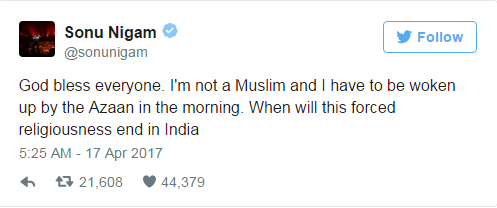 #3 Tweet That Followed.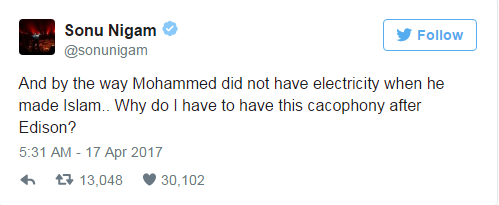 #4 All Are Equal.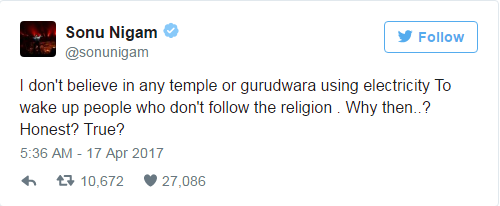 #5 Gundagardi Is Taking Over The Piousness

#6 Ban The Troublemakers.

#7 Okay Got It.

#8 Nobody Forces You.